Enokojima Art, Culture and Creative Center, Osaka Prefecture / enoco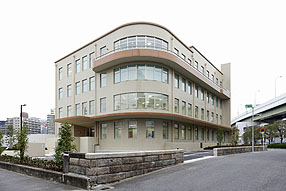 Enoco opened in April, 2012, with the purpose of cheering up the city of Osaka with the creativity of art and design. Our services include renting gallery spaces and multipurpose rooms, as well as holding exhibitions, performances, seminars and workshops. Also, we are working to solve various problems facing society and cities with creative ideas and networks.
Space Rental
At enoco, there are four galleries – large and small, multipurpose rooms, ateliers, and a studio equipped with audio and lightening equipment.
*For application to use these spaces, please check our website or contact enoco.
(In a case of application from overseas, please be sure to apply through a proxy residing in Japan.)
Utilizing & managing "Osaka Prefecture Contemporary Art Collection"
We manage and utilize up to 7800 artworks that belong to Osaka prefecture. In addition to regular themed collection exhibitions with selected artworks, we provide some events for people to get a more "hands-on" experience with art. Moreover, we rent artworks to public institutions and companies for display in their lobby, etc.
Our Objectives
We offer a variety of services as a cultural hub to address the improvement of the city's attractiveness and solve social problems by utilizing the creativity of art and design.
Solving social problems
We advise how to solve the social problems with creativity of art and design, provide information and refer human resources.
Various creative activities
Enoco's works covers not only fine art, but also a broad range of creative activities like design, performance, architecture and city planning. For example, we plan and provide projects across fields beyond just exhibitions and performances, but rather interactive activities where visitors can join and collaborative programs of paintings and performances.
Education & Human Resources Development
We provide workshops and a series of courses for learning creative ideas and the knowledge of how to utilize them effectively with the generations from children to all members of society and their needs.
Promoting Networking
We hold a networking events such as parties, in order to create opportunities of collaborative works between creative people from various fields, and the local government.
Platform Launch Support
We support making a cooperative platform where creative people like artists, designers and architects join together and, working with the prefecture and its residents, tackle various social problems that are difficult for the government to solve on its own, such as increasing the liveliness of local communities, sharing the charm of towns, and enlivening the public spaces in Osaka.


Director / Producer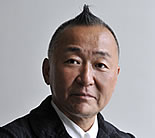 Masaaki Koga
Born in Shizuoka City in 1951. Established C&C Inc. in 1985 and the CI center Inc. in 1991. Identifying design and culture as the most important resources in the 21st century business management, he set out to consult and work with various enterprises, associations, shopping centers and local governments in order to revitalize local economies. Started and produced "DAIDOGEI World Cup in Shizuoka" in 1992. In 2009, he established Social Design Labs. to solve local and social problems with creative thinking.
Floor Guide
R1〜4:Gallery
R5:Studio
R6,8.11,12:Multipurpose Room
R7:Creative Share Room ("open-air" shared work space for our creatives)
R9,10:Creative Room (rental office space)

Cafe ninOval cafe
Open: 11:00 – 18:30
Tel: 06-6447-1515

Old Book Store ON THE BOOKS
Open: 11:00 – 20:00
Tel: 06-6443-8108
History of enoco
enoco is a facility newly opened in 2012, however, the building itself was built in 1938 with a modern architectural style as an auxiliary building of Industrial Research Institute of Osaka. Although the main building, the former Osaka Prefectural Office, was burnt down in air raid during the WWⅡ, this surviving annex is one of the few valuable pre-war modern buildings in Osaka.
Contact
Enokojima Art, Culture and Creative Center, Osaka Prefecture / enoco
1-34 2-chome, Enokojima, Nishi-ku, Osaka-shi, Osaka 550-0006 Japan
TEL:06-6441-8050
FAX:06-6441-8151
E-mail:


Website:www.enokojima-art.jp
Closed
Mondays and New Year holidays (December 29 – Japanese 3)
Open
10:00 – 21:00
Rooms 1 - 4 (galleries) 11:00 – 19:00 (11:00 – 16:00 on Sundays)
Access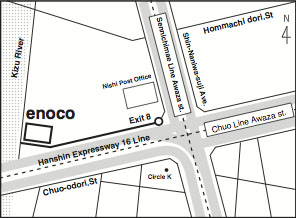 Approx. 150m West of Exit 8 of Awaza Sta. on Subway Sennichimae / Chuo Line *No parking lot for visitors. Please use public transportation.